Here at ML Moore & Associates Inc we specialize in block basements and all types of footings. We've been providing prompt, reliable service to customer all over Michigan for many years, and we've built a strong reputation for excellent workmanship and customer service. But this should come as no surprise and our customers will confirm that quality is foremost in everything we do!
Services and specialties offered by ML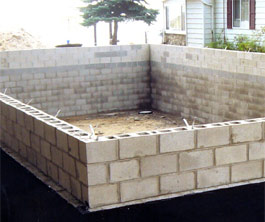 Moore & Associates include:
Block Basements
All Types of Footings
Light Industrial Building
Basement Repairs
Concrete Floors & Driveways
Cultured Stone
Chimney Repairs
NEW SERVICE ANNOUNCEMENT
For more than a century, wood block floors were the preferred surface for heavy duty industrial flooring. The end-grain wood blocks, installed similar to brick pavers, was the favored method because it helped to deaden noise levels caused by production equipment, and also minimized the vibrations of fork- truck traffic. Installed on-top of a concrete surface, the wood pavers provided for a super durable floor surface that could withstand the harsh conditions of a production environment.
Today, there are still many old factories and warehouses with wood block floor systems, but after years of neglect, are desperately in need of attention. M.L. Moore & Associates is your solution specialist. We can repair damaged areas or replace your entire floor if desired. We represent the Jennison & Wright Rock Block flooring system, which not only can extend the life of your floor, but also give it a fresh new look. Or, if a new concrete floor makes the most sense for your installation, M.L. Moore & Associates is also a licensed concrete contractor, with more than 35 years of experience.
Give us a call at (586) 531-9383, so we can evaluate your industrial flooring needs.